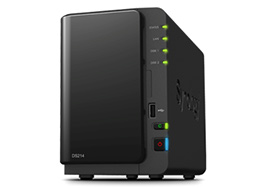 Synology NAS Server
Dual core CPU with floating-point unit enhances productivity
DS214 delivers outstanding read/write performance with an average over 106.38 MB/sec writing speed under RAID 1 configuration in a Windows environment, and over 110.65 MB/sec reading.1 The built-in floating-point unit enhances the overall capability of the main CPU, and is particularly advantageous in speeding up thumbnail creation when uploading large amounts of photos or videos.
Hardware encryption engine enhances file transfer speeds
DS214 is equipped with an encryption engine which offloads encryption calculation tasks away from the main CPU. Thus, the CPU can be free for other important tasks. In addition, with the encryption engine, DS214 runs at an increased performance level when compared to a pure software encryption implementation
Easy hard drive installation
To ensure your data safety and convenience, the tool-less hard drive trays allow you to install 3.5" hard drives without a screwdriver. Additionally, DS214 supports hot-swappable hard drive trays, enabling instant and risk-free hard disk replacement.
Award winning OS - DiskStation Manager
Synology DiskStation Manager (DSM) is a sleek, browser-based operating system running on every DiskStation and RackStation, which makes managing your Synology NAS a breeze. Featuring an intuitive user interface, DSM makes accessing and sharing your data smarter and simpler. Synology's Package Center lets you download and install useful add-on packages designed specifically for individual or business needs, meaning you can enjoy more entertainment in your life or better productivity at work
Ultimate file center
File Station is a fast and secure feature for sharing and managing your files stored on DS214. Just drag-n-drop and upload data from Mac or PC. Advanced filters make it easy to search for documents, photos, or videos. With built-in FTP or email clients, DS214 lets you organize and share files through an advanced web application effortlessly. You can even share files and folders with others by simply sending a link. Files can be reached on mobile devices via the companion mobile app DS file. HTTPS, SSL/TLS encryption, and link expiry dates also ensure file sharing over the Internet is highly secure
Connect your data quickly and easily
Synology aims to provide you the most convenient way to enjoy all services on DS214. With Synology QuickConnect, you don't have to deal with difficult DDNS setup. QuickConnect frees you from complicated router configuration and port-forwarding, so your entertainment and work files can be accessed on any computer, laptop, or mobile devices instantly without extra charge
Effective backup solution
Synology DS214 can serve as a centralized backup target. Whether you are a Windows or Mac user, you can back up everything on your computer directly to Synology NAS using Cloud Station. Whenever you modify a file, the changes are backed up to DS214 automatically. Mac users also enjoy native Apple® Time Machine support. You can also back up data from your DS214 to another DiskStation, rsync servers, external drives, or even Amazon® S3, Glacier cloud service, Microsoft Azure, SFR, and hicloud. "Backup & Replication" allows you to schedule backup tasks and restore the server to any particular point in time, while minimizing storage consumption and processing time by saving only the specific data block that has been changed between versions
The most compatible sharing
Enjoy seamless files sharing across Windows®, Mac®, and Linux® platforms as DS214 offers comprehensive network protocol support including FTP, SMB2, AFP, NFS and WebDAV. With Windows AD and LDAP integration, DS214 can fit effortlessly into any existing network environment - there is no need for IT administrators to maintain two sets of credentials. You also won't worry about missing files with the Recycle Bin feature which is supported on AFP, CIFS, File Station, and WebDAV. All files deleted in a shared folder will be automatically moved into the Recycle Bin.
Enjoy multimedia library
DS214 provides you a central platform to organize, backup, and share photos, music, and video collections. Featuring a streamlined and sleek interface, Synology packages — Photo Station, Audio Station and Video Station — let you build a seamless entertainment hub effortlessly. Since everything is saved on DS214, you can enjoy more customizable content arrangement, and no worries about extra monthly fees for storage capacity. Better yet, your digital collections can be shared with others via a simple link
Stream content to your TV
DS214 is highly compatible with other devices, letting you manage and enjoy digital content with the devices you already have: computers, mobile devices, TVs, DLNA devices, and stereos. Synology offers the latest support for TV streaming, including Samsung TV, Roku players, Apple TV, and Google Chromecast, meaning you can stream digital content stored on DS214 to your widescreen TV effortlessly.
Get mobility with our apps
Synology develops versatile mobile apps — DS note, DS audio, DS video, DS photo+, DS cloud, DS file, DS download and DS cam — allowing you to access and manage the contents of your DS214 with smartphones and tablets. QuickConnect brings an easier network experience as it eliminates complicated router configuration or port forwarding. With Synology mobile apps, your multimedia collection and work files are always on the go.
Eco-friendly NAS server
All Synology NAS is designed with energy efficiency in mind. DS214 only consumes 7.49W in HDD Hibernation and 14.67W in access*. With special fan and the smart airflow design, the DS214 keeps the system running cool 24/7, while its noise dampening design makes it quieter than PC counterparts. Synology acknowledges the responsibility as a global citizen, so all Synology products are produced with RoHS compliant parts and packed with recyclable packing materials.